Hermit Basin is one of the newer Christian conference facilities that started as a ski resort named Conquistador. It is located in the Sangre de Cristo Mountains of south-central Colorado at about nine thousand feet in elevation. Hermit Basin consists of two primary buildings. The first is a multi-purpose building called the Day Lodge. Inside, a kitchen and dining room that seats 120, provide the eating area for guests. In addition, there are three meeting rooms and two recreation/game rooms. Hermit Basin's gift shop is also located in this building. The Day Lodge is spacious and comfortable with beautiful views available from the upstairs Vista room. A large outdoor sundeck for enjoyment or summer cookouts is located on the west side of the building.
The second facility is the housing unit. The Inn houses guests of rental groups. If space is available, rooms can be rented out to individuals (our prices run at around $70.00 a day for two people). The building has 36 rooms; each room has a bathtub/shower, queen size bed, telephone, hide-a-bed, and television. In addition, half the rooms have a set of bunk beds while the other half of the rooms offer a kitchenette.
We have added wireless Internet access for our guests at the Day Lodge and at the Inn.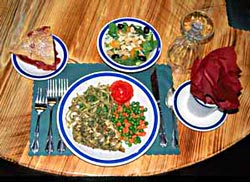 Three daily meals are prepared by a chef and served by waiters and waitresses. Additional meal servings are provided. Drinks and fruit are always available.
Hermit Basin provides ample recreational opportunities both on and off grounds. On grounds we provide an indoor 25′ x 50′ swimming pool, a hot tub, sand volleyball court, half court basketball area, and a state-of-the-art inner tubing hill. Since we border the National Forest, fishing and hiking are popular for many of our guests.

Special Events:
Best 8 Days — May 19-26, 2023
Hermit Basin Family Camp — July 30-Aug 5, 2023
Christmas Family Camp— December 27, 2023-January 2, 2024