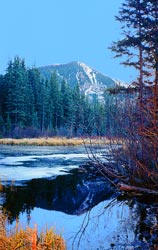 Come, enjoy the winter season at Hermit Basin! We are located at 9,000 feet in the Southern Colorado Rockies, and a winter wonderland greets all our guests.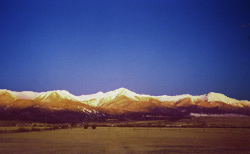 Enjoy the spectacular beauty of the Sangre De Cristo Mountains! Arriving in the Wet Mountain Valley around Westcliffe, one can not help but notice the thirteen and fourteen thousand foot peaks. As you drive toward them during the short drive from Westcliffe, the aroma of pine and fir forests greet our guests. Roads are rarely impassable because of snow.
On the grounds at Hermit Basin, we offer outdoor ice skating, broom hockey, and inner tubing. Our recently built, state-of-the-art tubing hill is guaranteed to provide a thrill! Located directly behind our Day Lodge, the 1,200 foot run is engineered to be safe, yet exhilirating.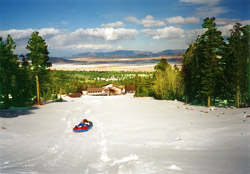 A motorized lift takes our guests to the top of the run. From there, the view of the valley is breathtaking. Enjoy the ride back down with a scream of delight and an ear-to-ear grin!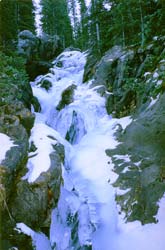 Kids love to make snow scultpures while Mom and Dad chat by the fire in the Day Lodge's Vista Room. Others choose to quilt or read. Ping-pong, foosball, air hockey, and pool tables are available in our two game rooms. All our guests appreciate the awesome view across the valley toward the Wet Mountains and Pikes Peak.
Of course our indoor pool is also available. The water temperature is kept around 80°. The hot tub, located at the Inn, soothes the muscles of tired snow boarders and skiers.
Some guests drive to Monarch ski area (70 miles) to ski and snowboard. We attempt to make the skiing experience as pleasant as possible! We provide free straight and parabolic skis. Hermit Basin sells discount lift tickets and our chef prepares sack lunches for those who ski. In addition, we offer some flexibility in meal times to allow individuals to get the most possible time on the slopes.
Guests who do not ski often take advantage of local attractions — Bishop's Castle, the Royal Gorge, Bowling at Cliff Lanes, or shopping at the gift shops in Westcliffe. "Hermit Basin Aerobics" (napping) is a popular activity for those wishing to get away from the busyness of daily life.
We hope you will visit us this winter!
Take a Look:
Christmas Family Camp— December 27, 2023-January 2, 2024
Speaker:Stay tuned!