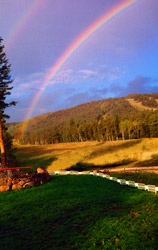 Summer comes late in the Sangre de Cristo Mountains. The winter snows of March and April, sometimes lasting into May, finally melt, giving way to new life. The aspen trees bud, squirrels reappear, and streams begin to flow. Summer is a beautiful season at Hermit Basin and the surrounding area!
Opportunities abound for Hermit Basin Guests in the summer and fall. For the outdoor enthusiast, this is the place to visit! Fishing, biking, hiking, swimming, horseback riding and more are all available. For those guests who wish to relax, we offer comfortable guest and meeting rooms.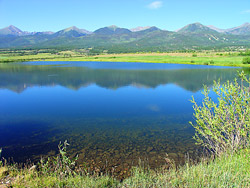 The Wet Mountain Valley is an ideal place to fish. In the vicinity of the conference center, a stocked catch and release reservoir is available. Two paddle boats promise to exceed your expectations. DeWeese Reservoir north east of Westcliffe offers both fishing and other recreation. With the purchase of a fishing license, available in Westcliffe, one can fish there or in nearby streams, creeks, and lakes. Avid fishermen may choose to climb up to Eureka, Horseshoe, Hermit or other alpine lakes. Here they can fish while being surrounded by nearby mountain peaks.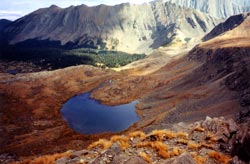 The Sangre de Cristo mountains offer a myriad of hiking trails. Some trails ascend to local waterfalls such as Hermit Falls. Others wind their way to secluded beaver ponds and lakes. Using these trails, one can hike to a number of thirteen and fourteen thousand foot mountain peaks. The Sangres boast of having eight of the 54 peaks in the state belonging to the elite "fourteener" group. Hikers can explore these heights or may choose other routes such as Rainbow Trail, which maintains an average elevation of 9,000 feet.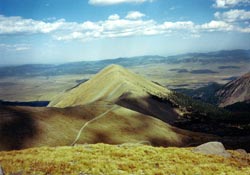 The trail skirts the eastern side of the range for nearly 70 miles from Salida, Colorado to Santa Fe, New Mexico. Wherever you hike, relish the wonder of God's created universe: the multitude of wildflowers, wildlife, forests, meadows and streams.
On grounds we offer other recreational opportunities. We have a sand volleyball court, a horseshoe pit, a half court basketball area, an indoor swimming pool and a hot tub at the Inn. In our indoor game rooms, we offer pool, ping-pong, air hockey and foosball.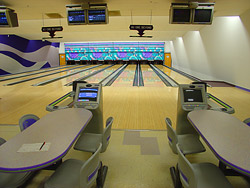 The small, nearby town of Westcliffe has a lot from which to choose. Consider visiting the tourist shops, taking your kids to the town park, or bowling at Cliff Lanes. If you decide to bowl, Hermit Basin personnel can arrange a group rate based on 10 or more individuals. You most certainly will enjoy the clean and attractive atmosphere there. Westcliffe also has two new tennis courts and a new fitness center. Finally, one might visit the historic mining communities in the hills around Westcliffe and Silver Cliff.
Horseback riding can typically be arranged through Hermit Basin. Employees of Hermit Basin typically make the arrangements. Royal Gorge stables provide a family-friendly atmosphere.
Road trips to Bishop's Castle, the Royal Gorge Bridge, and to Pueblo or Colorado Springs are popular in the summer. A journey you will not soon forget is a train trip leaving daily from Cañon City. It follows the Arkansas River through the Royal Gorge. Consider driving to Colorado Springs' Garden of the Gods, Cheyenne Mountain Zoo, or Focus on the Family. Perhaps you might drive up Pikes Peak Highway to an elevation of 14,110 feet. The Pikes Peak Cog Railroad, leaving Manitou Springs daily, is another means to visit the top of this world famous mountain.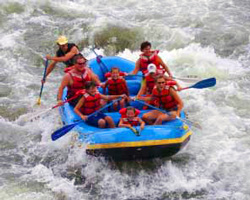 White water rafting on the Arkansas River is a favorite with our summer guests. We use Journey Quest. Arrangements can be made through Hermit Basin. Our guests can choose from various excitement levels, depending on the package they purchase. Enjoy the cold, refreshing water of one of Colorado's most popular rivers. Journey Quest also provides guided rock climbing trips. Don't forget your sunscreen!
A variety of golf experiences are available for all levels of golfers. Hollydot, in Colorado City, offers an all-day, 27 hole course in a lush, green valley. Pueblo's Walking Stick Golf Course is a desert links course. Pueblo's Elmwood City Park offers an executive 9 hole course or an 18 hole, wide fairway and tree-lined course. Four Mile Ranch Golf Club is a semi-private course in Cañon City. Only 45 minutes away in Florence, the old Bear Paw course is now Sumo Village, a Gary Player designed, 18 hole resort-like course. Westcliffe's own 9 hole golf course, St. Andrews, gives one the beauty of the Sangre de Cristo Mountains as they play. Come and golf in our "neck of the woods."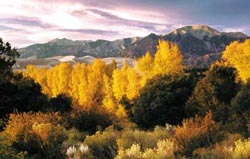 The Great Sand Dunes National Park is just two hours south-west over LaVeta Pass. Consider a scenic hike to the sand dunes via Mosca Pass or spend the day trying to hike up this natural phenomenon.
Frontier Pathways Scenic byway carries you on a path once traveled by explorers. The 103 mile drive connects various highways, then winds its way west from Pueblo through Hardscrabble Canyon into the mining town of Silver Cliff and railroad town of Westcliffe.
For our guests who need to get away and rest, we offer quiet, private rooms where one can do just that! Bring a good book with you and appreciate a week in the mountains of the Centennial State.
Our fall guests can enjoy many of the same opportunities as our summer guests. White water rafting, however, typically ends by the end of August. By mid-September the Aspen trees are breathtaking and early snows are possible by mid-October.
We invite you to enjoy these seasons with us.
Take a Look!!